I recently spent 5 amazing days in this beautiful country for a friend's 30th birthday and man did we have a great time! It has once again made me fall in love with the beauty of travel to Southern European countries in September/October time. There is something very attractive about travelling towards the sun, at a time most families are back at work and school, and it is still warm, but not scorching. I would actually love to make this a tradition.
Anyway, here are my top 3 Malta highlights:
1. History
Malta's culture seems to be a tapestry of diverse European influences. This is evident in its food, its architecture and its history. We spent our first couple of hours there trying to figure out who Maltese people are – Italian? Turkish? French? Eastern European? But then a lot of English culture is evident  there too. Of course, the Maltese are ultimately their own people, but their history shows the diversity of their origins.
Because of the nature of the trip, we didn't get to do as much sightseeing as I would usually, but what I did see was beautiful and I would certainly go back to explore it some more!
Did you know Malta has Biblical history too? In the book of Acts, Apostle Paul recollects being stranded on a Maltese island after being shipwrecked. I find the opportunity to explore Biblical history like that absolutely fascinating!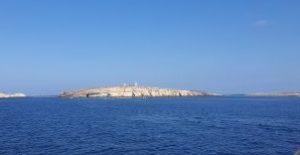 This is St Paul's Island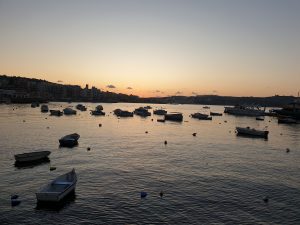 Beautiful Bugibba Sunset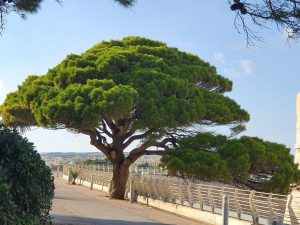 Stunning Mdina Trees
2. Inclusivity
One of the 1st questions a friend of mine asked our villa host (the infamous Steve 😏) was how Maltese were with black people. The host was very clear in stating black people were welcome in Malta and Maltese were not racist towards us. I must say I was a bit skeptical but all of our experiences being out and about backed up his statement. No nasty comments, unnecessary staring or random assumptions we were prostitutes (yes, this really happened to us in Rome). But also no weird, 'human-zoo esque' fascinations with our differences. It was just a welcoming, friendly, safe and inclusive environment. In fact, the only time I can remember people stopping to stare at us is when we decided to get in formation and do a fire photo shoot in a public space. Thanks to our gifted Creative Director friend (you know who you are)  for helping us channel our inner Beyoncés and Serenas.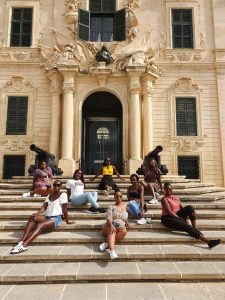 Showstopping in formation
3. Vibe
This was probably my easiest home away from home transition.
If it wasn't for the much better climate and obvious differences in culture and vegetation, I might as well have been at home.
The Maltese people are majority English speaking, drive on the left and most seem very friendly and helpful.
We rented 2 cars to get around in our group of 9 and thanks to Google maps and no additional EU roaming fees, it was simple to get to different parts of the island. Even parking was relatively easy to find and waaaay cheaper than in the UK.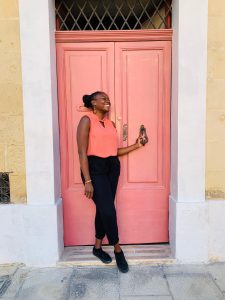 This trip had me all smiles
In sum, if you are hoping to have a fuss-free, easy trip, Malta is the one for you.
I can only recommend it.