It's August – the month most people associate with peak-period priced family vacations, weddings galore, hot girl summer vibes, or just a break from work.
Not me – for the past 11 years August for me has meant 13 days in a row, 12+ hour shift and weekend working. That's just the way it is in University Admissions.
Anyway, as I prepare for the most exhausting work days in my year, what better way to energise myself but recall my last epic holiday and share some highlights with you?
Gyles and I decided to spend our 1st wedding anniversary back in March in Thailand, so here are my top ten highlights:
10. Taking a 3 week holiday
Okay, this one isn't necessarily specific to Thailand, but I tell you there is something awesome about taking 3 weeks off your usual work and responsibility routines.
It's been a while since I have felt so relaxed in my adult life. Being able to take 3 weeks off was such a blessing and made us both realise we would love to make it a yearly thing where possible. I actually felt wealthy, like my time was truly my own, not worrying about hurrying back to work or about spending about 4 of our 19 days actually just travelling back and forth and acclimatising.
And because we were in Thailand, we were able to be there that long and not go bankrupt, leading me to my 2nd highlight.

9. Thailand is very reasonable
As much as I love travelling, I also love saving money while I'm travelling.
Thailand is a great place to go if you want exotic vibes without the expensive resort prices.
Two of Gyles's favourite stories to tell are of how we got to stay in an incredible honeymoon style suite at about £50/night and how we paid a total of £2 for 4 pieces of freshly fried chicken and rice for us to share.
And you don't have to be a savvy bargain hunter or spend hours online researching the best deals – these prices are pretty standard in Thailand.
In fact, you would probably spend more time trying to find that insta perfect hotel that is truly worth the over inflated prices they come with.
The most expensive thing for us were the flights there and at about £480pp return they are cheaper than most long-distance flights from Europe. Everything else, even accommodation with breakfast for 15 nights was cheaper than our flights.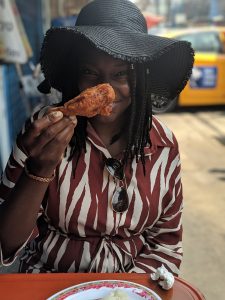 Freshly Fried chicken for less than 50p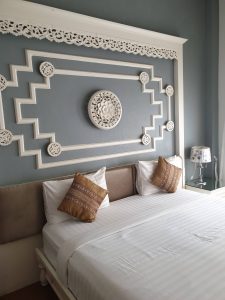 This place was less than £20/night!
8. The vegetation / culture
This is really a 2for1 point, but we enjoyed being on a tropical island with all the amazing flora – trees, flowers, plants so fragrant and colourful. But then you also get the metropolitan vibes of Bangkok and the great architecture and cultural relevance of temples.
I like seeing diverse environments so being able to switch from beach to big city in one trip was great for me.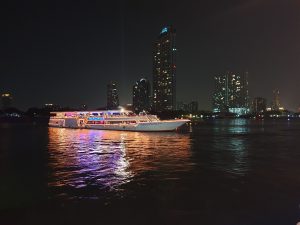 Bangkok by night – view from the River boat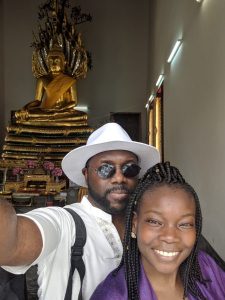 Us in Wat Pho
7. Koh Samui Quad biking
I love quad biking – I've done it in Poland, Marrakesh and now also Koh Samui.
The Koh Samui experience has by far been the most scenic, but also the most dramatic. It was a Jungle Quad Biking excursion and there were more than a couple of times I saw my life flash before my eyes as we sped downhill uneven dirt roads that had a cliff on one side and a steep wall of rock on the other. It was a weird combination of excitement, adrenaline and absolute dread of dying – definitely the 1st time I was praying while biking, lol.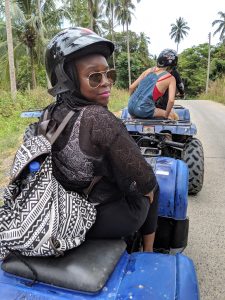 Me, post quad biking, glad to still be alive
6. Fresh Fruits
I love coconut water – but the one we pick up from Costco from time to time is nothing like the natural one. I made sure I topped up on the fresh coconut water while out there.
But they have loads of other fruits that taste so much better in Thailand than in the UK, like mangos, but more on that in a moment.
My favourite fruit find there were mangosteens, they are a bit like giant lychees and the most tasty and refreshing snack when chilled.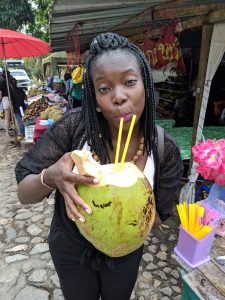 I have so many pictures of me drinking coconut water – the real deal is on another level!
5. Mango Sticky Rice
Gyles had been banging on about this dessert from when I first met him – "Vanetta, the mango sticky rice… it's beyond amazing". To the point I just thought it was doomed to be a major let down because of the many times he had hyped it up.
But it quickly became my number 2 obsession while out there. It even got to the point where Gyles had had enough and I was still going for it. Explaining it does not do it justice – let's just say that perfect sweet salty balance that makes you not want to stop eating, yeah, mango sticky rice has got that addictive nature.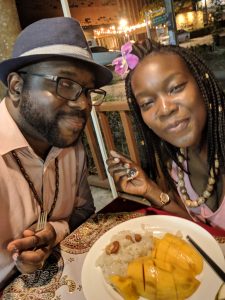 At Mama Deng's on Koh Samui – enjoying the Mango Sticky Rice
4. Being by the water, not in it
For those who don't know, I can't really swim, so I was a little concerned when most of the things people recommended to do in Thailand involved water sports.
In my 19 days I spent time both at the beach and pool once and that was definitely enough for me. In fact, my highlight really is what I was able to do undisturbed at the pool and beach: soaking up some much needed, glorious sun!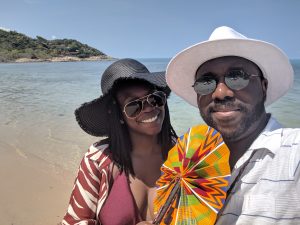 Our one and only beach day was great!
3. The sun
I was made for warmth – literally it's like my body just grows into its full potential whenever I am in a warm climate. My skin starts sparkling like a chocolate coloured diamond, reminding everyone of the royalty stitched into my genes. When you see pictures of me in Thailand, I'm constantly glowing, my teeth are sparkling, my eyes are twinkling, my hair is shining, people break out in song when they see me – lol, you get the point. Even the extra pounds on me seem to fair kinder with me in pictures. Thailand had highs of 38 °C which to be honest was a bit much, especially when walking with no shade or air-con in sight. But I certainly topped up my natural Vitamin D reserves. And if you plan an island/beach stop on your trip, you should hopefully be able to get some of that beautiful cool breeze at times or just cool off in the water.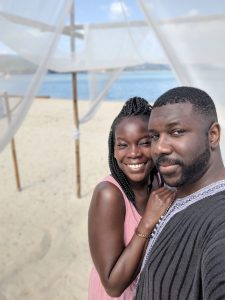 Look at us – just glowing!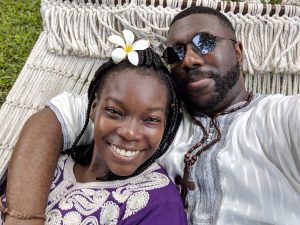 Enjoying the glow of the sun
2. Sweet and Sour Fish – Thai style
The truth is, almost 100% of the time all the food we ate in Thailand was fantastic – fresh, flavoursome and cheap. But the 1st time we tried this particular flavour combination, we knew we'd found a winner.
Thai sweet and sour style is not one of those really artificial almost orange looking syrupy thick sauces – it is much more flavoursome and natural than that.
They use the natural sweetness of pineapples with some brown sugar and the natural acidity of tomatoes to create another mouthwatering blend of savour.
Add to that the fresh- and crispiness of golden fried fish and you have a dish I legit expect to be eating in heaven. Like, I literally sat there eating this fish and wishing I could share the beauty of this experience with everyone I know who loves fish. I felt so honoured I got a chance to taste such goodness – it's not often that I'm taken aback so much. Yes, I looooove and enjoy many foods, but this was special.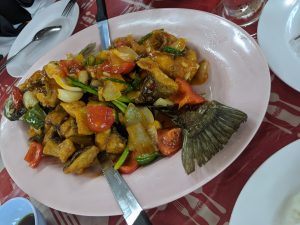 This was so mouthwateringly awesome!
1. Connecting with other travellers
The Thai locals were lovely people and we always felt welcome and safe there which is not always a given when travelling while black if you know what I mean…
What was interesting is the random connections we made with other tourists there.
Like the time we went to the cinema in Koh Samui to watch Shazam and bumped into this older Australian couple, celebrating their 30th wedding anniversary, who we got on so well with they are now dearly loved marriage and faith mentors to us!
Or the American couple who were on their way back to Shanghai were they lived and encouraged Gyles and I to think about moving to China for a little while, especially cause I could become a model there in days. We did actually think about it seriously for a little afterwards, but then decided against it.
The point is, we mostly meet like-minded people doing what we enjoy doing, no matter our differences. We love travelling and we love people and when we travel we meet people who love the same, from different parts of the world but similar values. It's like a reunion with people you didn't realise were missing in your life.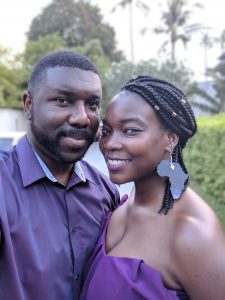 My favourite fellow traveller
So, as I head back to work, I hope you enjoyed this little recap of our trip and are inspired to go to Thailand yourself at some point.
Enjoy your break, whatever you are doing, and to my fellow Admissions tribe, hang in there, August will soon be over, lol!